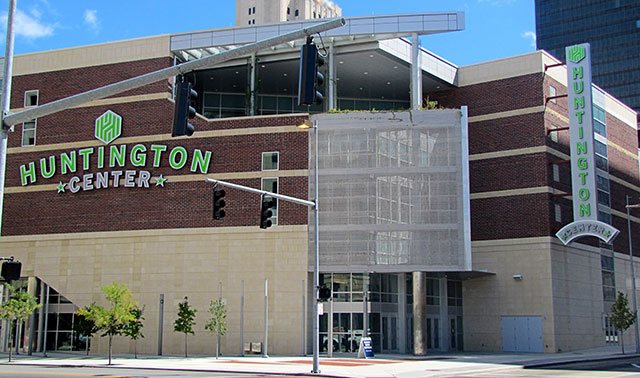 About Huntington Center
Lucas County's newest attraction, the $105 million dollar state-of-the-art Huntington Center is located in downtown Toledo, Ohio. The ground breaking on the 8,000 plus seat multi-purpose arena began October 1, 2007. Huntington Center utilizes both indoor and outdoor areas around the facility. There are 20 private suites and 750 prestige club seats as well as a club-level lounge, a banquet facility, a team merchandise store and a modern scoreboard.
Huntington Center is one of the nation's first LEED certified professional sports arena. The Center's signature green design element is a 900-square foot "green wall" outside of the building, which will feature the use of plant life on the exterior of the building to help cool the Center by shading the glass-enclosed main entrance. Huntington Center's location next to mass transit systems, use of a light-colored roof membrane that reflects sunlight and underground cisterns collecting rain water to re-use for landscaping purposes are also emphasized to acquire LEED points for the project.
Huntington Center is managed by ASM Global. ASM Global was formed from the merger of AEG Facilities and SMG in October 2019 creating a venue management powerhouse that spans five continents, 14 countries and more than 300 of the world's most prestigious arenas, stadiums, convention and exhibit centers, and performing arts venues. To learn more about ASM Global and the exciting new ways we can serve you, click here to visit our website: www.asmglobal.com.